WGTE To Record And Air Free Independence Day Concert At Hayes Presidential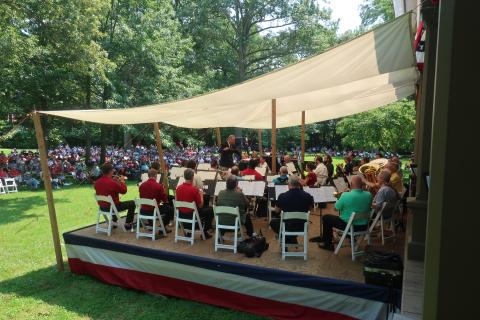 The concert will air on WGTE FM 91 on Friday, July 8 and WGTE HD on Sunday, July 10 
Toledo, Ohio (June 30, 2022) — WGTE Public Media will be recording and broadcasting the Independence Day concert at the Rutherford B. Hayes Presidential Library & Museums. This concert, performed by the Toledo Concert Band, will feature members of the Toledo Symphony Orchestra on the verandah of the historic Hayes Home. The Hayes Presidential Library & Museums' annual Independence Day Concert is on Monday, July 4 from 2 p.m. to 3:30 p.m. Admission is free to the public.
WGTE will broadcast the concert on FM 91 at 7 p.m. on Friday, July 8, and on WGTE HD (30.1) at 6:30 p.m. Sunday, July 10. Viewers can listen on both dates at wgte.org and on the WGTE app.
Bruce Moss of the Toledo Concert Band is the conductor, and WGTE's Brad Cresswell, host of Afternoon Classics and Toledo Symphony Lab, is the emcee. The Toledo Concert Band will perform a variety of songs, including Tchaikovsky's "1812 Overture" while Civil War reenactors fire cannons in sync with the music.
For more information on the event, including parking, food and sponsors, visit rbhayes.org.
About WGTE
WGTE Public Media, licensed and operated by The Public Broadcasting Foundation of Northwest Ohio, is a non-profit, noncommercial, educational TV and radio broadcaster and center of learning for northwest Ohio and Southeast Michigan. WGTE is proud to be a PBS and NPR member station. It was founded as a low-power educational television broadcaster in 1953. Education remains at the heart of what we do every day. From our entertaining, informative and educational programs that air on WGTE TV, FM 91, and www.knowledgestream.org to our professional development opportunities for K-12 teachers and preschool daycare providers and community engagement activities, WGTE makes northwest Ohio and southeast Michigan a better place to live. For more information, visit www.wgte.org.
If you would like more information about this topic, please call Matt Reny at 419-380-4646, or email matt_reny→wgte.org.