WGTE Names New FM 91 Radio Host
September 6, 2022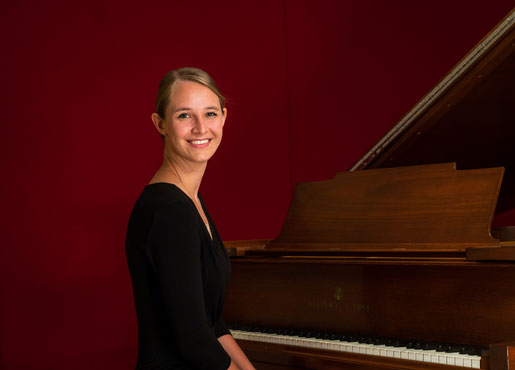 Mary Claire Murphy joins WGTE Public Media as the new On-Air Classical Music Host and Content Producer 
Toledo, OH (September 6, 2022) - WGTE Public Media has hired a new FM 91 Radio Host, Mary Claire Murphy. Murphy will serve as an On-Air Classical Music Host and Content Producer hosting FM 91's "Morning Classics" from 9–11 a.m. Monday through Friday.
Mary Claire Murphy has received degrees in piano and composition from Xavier University and Bowling Green State University. Murphy has owned and operated her own music studio, Field Lily Music, and has taught music at both St. Ursula Academy and St. Augustine Catholic School in Napoleon. She is a professional pianist and is well-versed in classical music.
Brad Cresswell, WGTE Radio Station Manager, states, "We're thrilled to have Mary Claire join our radio team. She brings the right combination of skill and personality to the classical music host chair, and her strong experience as a teacher has honed her ability to connect with classical listeners."
Mary Claire Murphy is to start at WGTE Public Media full-time on Tuesday, September 6, 2022. You can listen to her every weekday morning from 9-11 p.m. on "Morning Classics".
About WGTE
WGTE Public Media, licensed and operated by The Public Broadcasting Foundation of Northwest Ohio, is a non-profit, noncommercial, educational TV and radio broadcaster and center of learning for northwest Ohio and Southeast Michigan. WGTE is proud to be a PBS and NPR member station. It was founded as a low-power educational television broadcaster in 1953. Education remains at the heart of what we do every day. From our entertaining, informative and educational programs that air on WGTE TV, FM 91, and www.knowledgestream.org to our professional development opportunities for K-12 teachers and preschool daycare providers and community engagement activities, WGTE makes northwest Ohio and southeast Michigan a better place to live. For more information, visit www.wgte.org.
If you would like more information about this topic, please call Matt Reny at 419-380-4646, or email matt_reny→wgte.org.